Reiki FAQ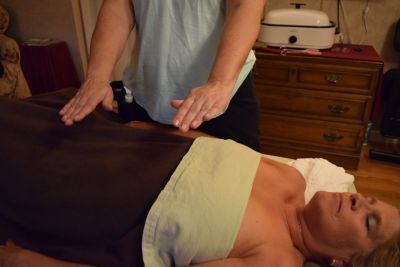 What is Reiki?
http://www.reiki.org

Reiki is a Japanese technique for stress reduction and relaxation that also promotes healing. It is administered by "laying on hands" and is based on the idea that an unseen "life force energy" flows through us and is what causes us to be alive. If one's "life force energy" is low, then we are more likely to get sick or feel stress, and if it is high, we are more capable of being happy and healthy.

The word Reiki is made of two Japanese words - Rei which means "God's Wisdom or the Higher Power" and Ki which is "life force energy". So Reiki is actually "spiritually guided life force energy."

A treatment feels like a wonderful glowing radiance that flows through and around you. Reiki treats the whole person including body, emotions, mind and spirit creating many beneficial effects that include relaxation and feelings of peace, security and wellbeing.
How does Reiki energy flow?
Reiki flows through our palms at different rates of speed, depending on various factors such as the extent of the recipient's illness, degree of blockage, his or her readiness to accept change, and so on.
Is Reiki a form of faith healing?
No, Reiki is not a religion, nor is it based on the acceptance of any religious doctrine. Having a belief system is not a requirement for Reiki to work. Reiki does not infringe on anyone's right to believe what he or she wishes. However, Reiki's principles are spiritual in nature and do encourage spiritual empowerment and growth.
Who can benefit from a Reiki treatment?
Reiki's gift of increased energy and vitality can be extended to anyone. It doesn't matter what a person's gender, race, intelligence, or financial status is. Reiki is not a healing energy reserved only for the elite, wealthy, educated, or spiritually evolved.

What does Reiki feel like?
Common Reiki sensations are heat or coolness, "pins and needles" tingling, vibrational buzzing, electrical sparks, numbness, throbbing, itchiness, and drowsiness.
What to wear for your Reiki treatment:
Comfortable, loose clothing
Limited jewelry
Shoes that are easily removable outside of the treatment room
No belts
No perfumes or colognes
Long hair should be pulled back for access to the neck
As you lay on a padded treatment table, fully clothed, soft music will play in the background. Should you prefer quiet you can let your practitioner know;  this is your session so be sure to speak up if you have any concerns or requests.  Treatments can also be done in a treatment chair.  Your comfort and needs are always the main consideration.
Reiki Myths
Myth : Reiki is a Religion
Reiki absolutely is a spiritual art. The principle teachings of Reiki embrace a life of balance and promotes spiritual growth. But, Reiki is not a religion, nor is it based in any particular religious doctrine. Reiki does not infringe on anyone's beliefs or personal values. People of many different faiths have discovered the love-energies Reiki offers.
Myth : Dr. Usui was a Christian Monk
The founder of the Usui System of Reiki, Dr. Mikao (Mikaomi) Usui, was not a monk, a Christian, or a medical doctor. He was a Japanese Zen Buddhist, a businessman, spiritualist, and scholar. Late in his life, he experienced a profound spiritual

enlightenment after a period of fasting and meditation. Afterwards he began the process of developing the healing art of Reiki and opened a teaching clinic in Japan.
Myth : Reiki is a Massage Therapy
Reiki is NOT a massage therapy. Although there are many massage therapists who will incorporate the use of Reiki's healing energies into their massage sessions. Reiki is an energy-based therapy that does not involve manipulating bones or tissues. Reiki practitioners use a light touch with their hands on their clients' bodies or will hover their palms over them.